PA HIRE Galway
Initially Galway djs started off as a DJ hire company, but it wasnt long before we started to rent out equipment to DJs and Bands. We are now one of the biggest sound equipment hire companies in Galway. Our prices are very competitive and all sound equipment is of a professional standard.
We have the following sound equipment for hire
Speakers
Bass Bins
Amplifiers
Monitors
Cordless Microphones
Sure Wired Microphones
Speaker Stands
Mixing Desks
---
SOUND ENGINEER Galway
We have 2 professional sound engineers that work with us every weekend. They both have over 5 years experience working in the entertainment industy and specialise in providing top quality sound for live bands and performers.
Over the years we have bought some of the best sound equipment on the market. All our equipment is regualry serviced and tested so you are hiring sound or PA equipment form use, you will be gauranteed to quality sound on the night of your event
LIKE US ON FACEBOOK
KARAOKE HIRE Galway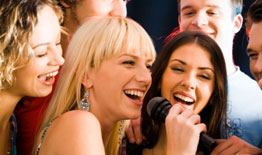 Karaoke Hire is becoming more and more popular in Galway recently. It is ideal for house parties, hen nights, office parties and birthdays. Have a look at our song list and see if your favourite song is on the list. We probably have the best selection of songs in Ireland never mind Galway :) Read More >>