KIDS PARTY DJ Galway
Galway DJs are specialists in providing entertainment for children's parties. Our experienced DJs interact with the children and try to keep everyone happy and involved throughout the party.. so this means you can relax and enjoy the party too!
We organise games like musical statues, musical chairs and pass the parcel and we give away prizes to the winners. We also do dancing and singing competitions on the day
All our Kids Party DJs keep their songs up to date with all the latest songs from high school musical and other musicals that the children watch on the telly and we always play songs like Macarena and the Cha Cha Slide to get the children dancing
DJ EQUIPMENT THAT WE USE
We have the best lights and speakers for kids parties. When the children walk into the venue they will be amazed and will immediately want to start dancing.
We can also supply smoke and bubble machines, strobes, U.V lighting and Laser Lights
Contact us on 0872992368 and we'll give you a quote...
LIKE US ON FACEBOOK
KARAOKE HIRE Galway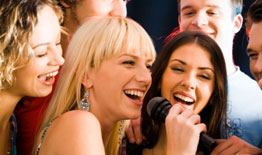 Karaoke Hire is becoming more and more popular in Galway recently. It is ideal for house parties, hen nights, office parties and birthdays. Have a look at our song list and see if your favourite song is on the list. We probably have the best selection of songs in Ireland never mind Galway :) Read More >>