BUBBLE MACHINE HIRE Galway
We have the biggest bubble machine in Galway for hire. It is ideal for kids parties, weddings, 21sts and Christenings. It a great idea and is something a bit different. We supply a bubble machine free of charge if booking a DJ though us.
---
If you want lots of bubbles, our bubble machine is perfect for you! Bubble machines are brilliant for kids parties and weddings. We can deliver to anywhere in Galway so contact us now on 0872992368 for more information.
LIKE US ON FACEBOOK
KARAOKE HIRE Galway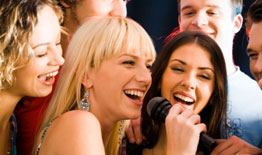 Karaoke Hire is becoming more and more popular in Galway recently. It is ideal for house parties, hen nights, office parties and birthdays. Have a look at our song list and see if your favourite song is on the list. We probably have the best selection of songs in Ireland never mind Galway :) Read More >>